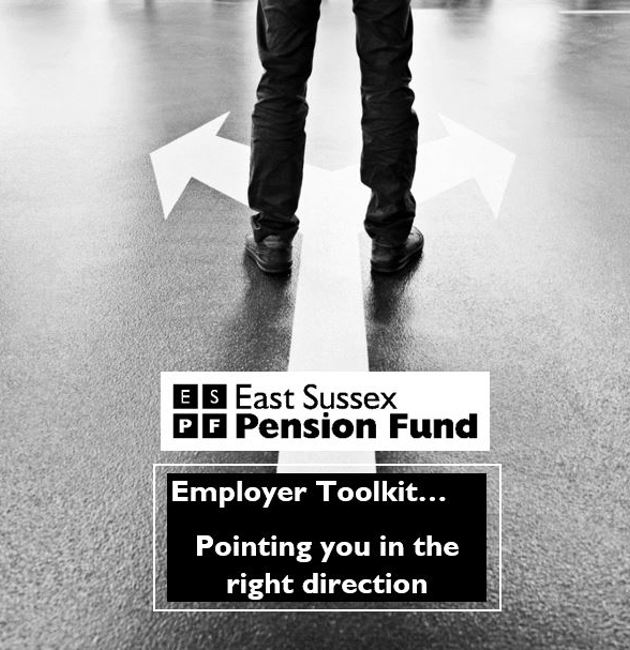 Introducing our Employer Toolkit
We appreciate that sometimes it can seem daunting being an employer in the LGPS.
What with complying with regulation, meeting deadlines, understanding processes, supporting employees, data submission and much more. 
That's why we have provided a Toolkit for all employers of East Sussex Pension Fund to help point you in the right direction. 
Absences
| | | |
| --- | --- | --- |
| Subject | Summary | Link to file |
| Absence due to sickness or injury | Understand what to do when employees are absent due to sickness or injury | Access file here |
| Authorised unpaid leave | Understand what to do when an employee takes authorised unpaid leave | Access file here |
| Child related leave | Understand what to do when an employee takes child related leave | Access file here |
| APCs during absence | Understand how employees can pay additional pension contributions to make up for pension 'lost' during unpaid absence | Access file here |
Accounting
| | | |
| --- | --- | --- |
| Subject | Summary | Link to file |
| IAS19 & FRS102 reporting | Understand how East Sussex Pension Fund supports employers with reporting | Access file here |
| Triennial valuation | Understand what a triennial valuation is, what happens and at what stages are employers involved | Access file here |
Administration processes
| | | |
| --- | --- | --- |
| Subject | Summary | Link to file |
| Death in service | Understand what to do when an employee dies in service | Access file here |
| Leavers | Understand what to do when a member ceases membership of the Scheme  | Access file here |
| New starters | Understand what to do when a member joins the Scheme | Access file here |
| Opting out | Understand the process to follow when a member opts-out | Access file here |
| Redundancy or efficiency | Understand the pension implications when someone leaves due to redundancy or efficiency | Access file here |
Contributions
| | | |
| --- | --- | --- |
| Subject | Summary | Link to file |
| 50/50 Section | Understand all about the 50/50 section of the Scheme | Access file here |
| Additional Pension Contributions | Understand what APCs are and your responsibilities as an employer | Access file here |
| Additional Voluntary Contributions | Understand all about AVCs | Access file here |
| Assumed pensionable pay | Understand what APP is, how it's calculated etc | Access file here |
| Pensionable Pay | Understand what constitutes Pensionable Pay  | Access file here |
| Final Pay | Understand what constitutes Final Pay | Access file here |
Employer responsibilities
| | | |
| --- | --- | --- |
| Subject | Summary | Link to file |
| Annual Benefit Statements | Understand what's included on an ABS statement, when they are issued and data requirements from employers | Access file here |
| Auto enrolment | Understand what employers are responsible for under the Auto enrolment rules | Access file here |
| Discretions | Understand why a discretions policy is needed and what employers need to include | Access file here |
| Employer responsibilities under the LGPS in summary | Understand in brief the main responsibilities that an employer under the LGPS regulations | Access file here |
| i-Connect | Understand all about i-Connect and your part in using the system as an employer | Access file here |
Retirement
| | | |
| --- | --- | --- |
| Subject | Summary | Link to file |
| Early retirement | Understand the early retirement process and what support you need to provide as an employer | Access file here |
| Normal retirement | Understand the normal retirement process and what support you need to provide as an employer | Access file here |
| Late retirement | Understand the late retirement process and what support you need to provide as an employer | Access file here |
| Ill health retirement | Understand the ill health retirement process and what support you need to provide as an employer | Access file here |
| Flexible retirement | Understand the flexible retirement process and what support you need to provide as an employer | Access file here |
Further support
Call: Tim Hillman (07935 014575)
Paula Jenner (07762 700079)
Email: [email protected]